The Tharia River Basin presents some of the most difficult and complicated terrain in Meghalaya. It is characterized by a great number of small rivers, all of which cut their own, steep, valleys, though they only flow together and coalesce in a single canyon a few kilometers north of the plains of Bangladesh. This gives the area a maze-like quality, which makes it hard, though interesting, to travel in. While almost none of the root bridges in this region are well known, so far it appears that the valleys between the towns of Sohra and Pynursla contain more botanical architecture than anywhere else in Meghalaya.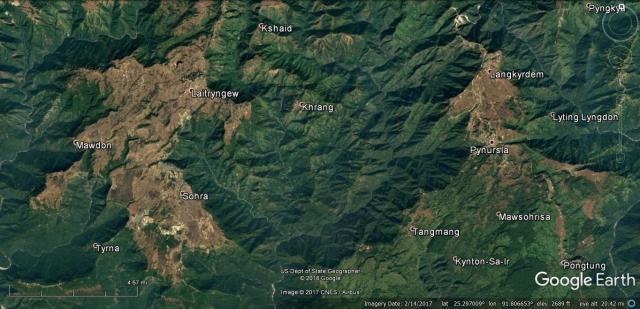 There seem to have been many living root bridges throughout the region until relatively recently, though my experience has indicated that the numbers have dropped precipitously in the last few years, and that the surviving examples are often under a high level of threat. This has been communicated to me by villagers across the region, and is often blamed on changing agricultural practices. In the area between Sohra and the river Umrew, slash-and-burn agriculture is commonly used, which has cleared much of the natural jungle and effected the ability of the region's slopes to absorb runoff. This increases the risk of damaging floods and landslides.
Throughout most of the region there is widespread evidence both for the existence of botanical architecture, and for its decline. Often, villages will still have remnant of their former population of root bridges, though the consensus will be that most of the bridges have disappeared.
In the eastern part of the Tharia Basin the situation is more promising, though it is still far from ideal. Here, slash-and-burn agriculture is not used as much, so the jungle is more intact. In some villages in this region, botanical architecture does seem to be fading out, however several significant pockets remain. In particular, the area around Pynursla, including villages such as Rangthyllaing, Mawkyrnot, Myndring, and also Wahkhen and Nongblai (neither of which I've been able to visit) contain a very high concentration of botanical structures. This area may offer significant clues as to what the practice was like in its heyday.
Please note that the river nomenclature in the region is confusing and often contradictory. Different villages often refer to the same river, or alternate stretches of a single river, by different names. The Tharia is one of the names given to the river formed from the combining of the region's streams just before it crosses into Bangladesh. Also, bear in mind that large portions of the region have still not been visited as part of the project. Other pockets and concentrations of botanical architecture are likely.
The listings given below are organized alphabetically by village name.
LIVING ROOT BRIDGES OF THE THARIA RIVER BASIN: