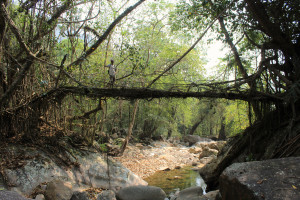 | | |
| --- | --- |
| RIVER/STREAM: | USTEM |
| LENGTH: | 19.4 m |
| WIDTH AT CP: | 1.4 m |
| HEIGHT AT CP: | 6 m |
| GPS: | N25.23336 E91.76718 |
| ALTITUDE: | 332 m |
| SR: | 8 |
| NOTES: | A relatively new living root bridge. The Laitiam village council has outlawed any damage being done to it. No signs of man-made damage. No flood damage. The SR would be higher if not for the thinness of most of the roots, meaning they are more susceptible to damage. The bridge is being very actively maintained, with many of the individual roots that make up the structure being guided and manipulated to strengthen it. It is a good place to observe the way in which the process of inosculation helps in the growing and development of botanical architecture. One side of the span ends in a steep ramp structure. The village headman (pictured above) stated that the trees the bridge is made from were transported to their current location by the village, and were already several years old when the move was made. |
NOTE: PLEASE GO TO ANALYTICS AND ANALYSIS (APRIL 2017 DRAFT) FOR METHODOLOGIES. LR PROJECT DESIGNATION DOES NOT REFLECT LOCAL NAME.