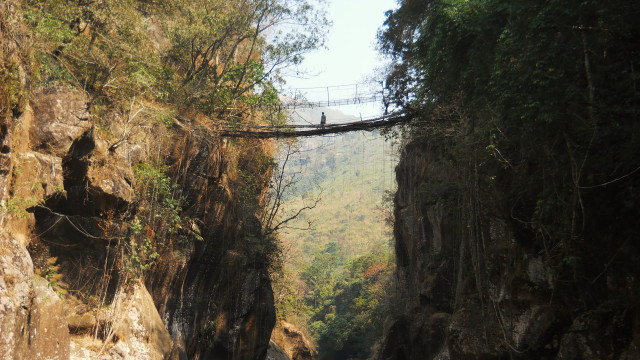 Hi folks. Just wanted to share some info on my next book about the Khasi Hills. Right now, I'm scraping together funds for a new expedition to Meghalaya. I have a new page for it here. I'll be trekking for about six weeks, and then will be writing a new book about it.
The focus is still going to be digging up info on root bridges. Whatever information I find will wind up on this blog (new entries will be factored into the analytics section, and also given separate blog pages). During the trek I'm planning, the idea is to cover as much wider swath of ground, and determining if root bridges are to be found, or if they ever existed, across the entire region known as Riwar…it would be very interesting to find out that root bridges were common throughout all of southern Meghalaya. However, finding a definite demarcation, a place where evidence for living architecture both current and historic, ceases, would also be useful. Also, a secondary objective of the trek is to collect folk lore about the bridges, and to gather information on the supernatural beliefs pertaining to the bridges and ficus elastica trees generally.
Anyway, check out my GoFundMe page for more info on the book, and also more pictures…needless to say, even a Facebook share would help mightily!