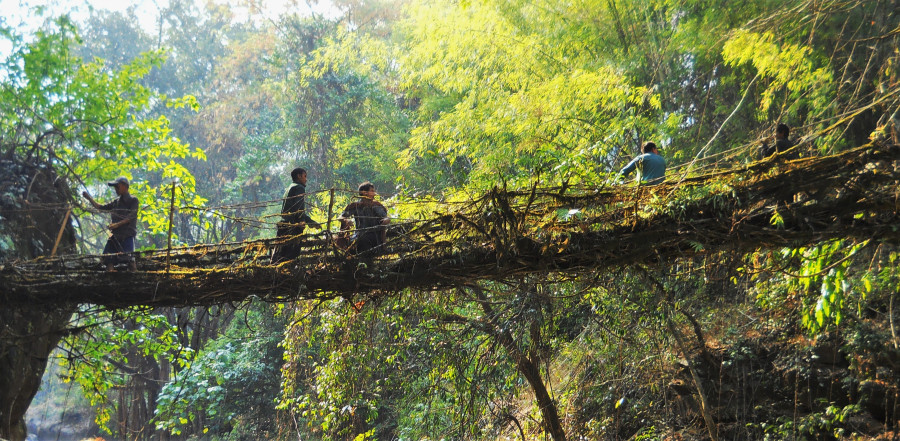 | | |
| --- | --- |
| RIVER/STREAM: | UMREW (unconfirmed, may have different local name) |
| LENGTH: | 33.8 m |
| WIDTH AT CP: | 1.1 m |
| HEIGHT AT CP: | 7.8 m |
| GPS: | N25.34547 E91.81026 |
| ALTITUDE: | 726 m |
| SR: | 4 |
| NOTES: | A very long and visually spectacular root bridge. The roots are mostly fairly thin. Thicker roots continue about one fifth of the way along the span from the southern edge of the bridge, and then abruptly stop. The span then continues from that point on with thinner roots, indicating that the bridge may have failed at one point in the past and then was reconnected. Many other root bridges are said to have existed along the same stretch of river, but have all been washed out as flood conditions have gotten worse in recent years. To my knowledge, this is the only survivor in the nearby area. Determined attempts are being made from Kongthong village to maintain and protect the bridge for tourism and heritage purposes. However, the bridge continues to be badly damaged by latex extraction. Significant and recent damage was observed in March 2016. Most of the jungle nearby is being cleared. The photo shows maintenance being done in early March 2015 by Kongthong and Pdei villagers. |
NOTE: PLEASE GO TO ANALYTICS AND ANALYSIS (APRIL 2017 DRAFT) FOR METHODOLOGIES. LR PROJECT DESIGNATION DOES NOT REFLECT LOCAL NAME.