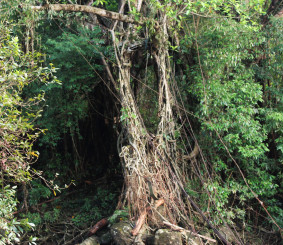 | | |
| --- | --- |
| RIVER/STREAM: | WAH UMJAHA |
| GPS: | N25.19927 E92.02204 |
| ALTITUDE: | 38 m |
| NOTES: | A large, approximately 30 m long root bridge existed here until less than 20 years ago. Significant physical remnants are still in evidence. Steel cables were an important part of the structure. Several cables are encased in inches of tree growth, indicating that, even when the root bridge was functional, it employed non-living elements. A replacement structure was built from the remnants of the root bridge to the northern shore of the Umjaha river, but that too has failed. The structure is the lowest altitude object included in this survey. It is also the furthest south, and is approximately 2 km from the border of Bangladesh. |
NOTE: PLEASE GO TO ANALYTICS AND ANALYSIS (APRIL 2017 DRAFT) FOR METHODOLOGIES. LR PROJECT DESIGNATION DOES NOT REFLECT LOCAL NAME.