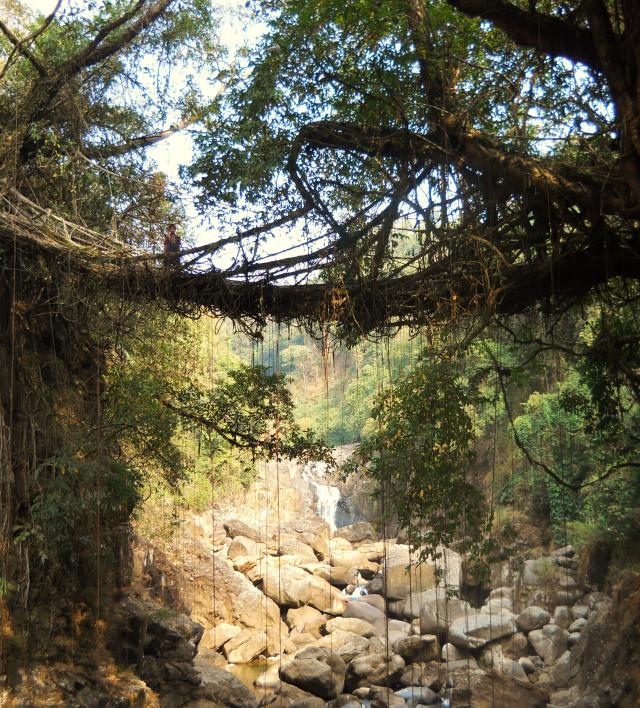 | | |
| --- | --- |
| RIVER/STREAM: | WAH AMKSHAR |
| LENGTH: | 30.7 m |
| WIDTH AT CP: | N/A, HAZARDOUS CONDITIONS (see notes) |
| HEIGHT AT APPROX CP (see notes): | 19.2 m |
| GPS: | N25.22664 E92.03979 |
| ALTITUDE: | 520 m |
| SR: | 3 |
| NOTES: | A very high, long, visually spectacular, though precarious, root bridge. Metal water pipes, which are used to supply the village of Kudeng Rim, lead over the bridge. They are said to have been there for many years. Roots have been used to tie the pipes together and stabilize them. A root that is an important part of the structure is rotting, calling the overall health of the tree into question. As of May 2016, the bridge was only usable with the aid of quickly decomposing bamboo poles and leftover rusting metal pipes. The safety of the structure is hard to gauge. Many of the roots that take the weight of people crossing the bridge are very thin. The locals may be forced to replace the root bridge with a conventional structure for safety reasons. The bridge is situated on active trail, and does show signs of recent community maintenance. Its location is very scenic, as it spans a vertical walled gorge and frames a large waterfall and plunge pool. It represents the last of at least three living root bridges that once crossed the Amkshar river in living memory. The height was not taken at the exact CP as that point was judged to be too hazardous. The measurement was taken as close to the CP as was possible. Width measurement was also not taken due to safety reasons. It should be noted that the bridge is unusually wide, though many of the roots near the edges are too thin or too sick to depend upon. |
NOTE: PLEASE GO TO ANALYTICS AND ANALYSIS (APRIL 2017 DRAFT) FOR METHODOLOGIES. LR PROJECT DESIGNATION DOES NOT REFLECT LOCAL NAME.
This slideshow requires JavaScript.